Beta Alpha Psi
Nu Rho Chapter | University of California - Riverside
---
About Beta Alpha Psi
---
The Beta Alpha Psi - UCR chapter is an honor organization focused on bringing networking opportunities through a national network, honing leadership and teamwork skills, and nurturing academic and professional excellence in accounting and finance.
Our board members are determined to help you achieve your goals, both academic and professional. We have accumulated skills and experience throughout our own internships and networking, and would like to share what we have learned with you.
The UC Riverside chapter was founded in Winter of 2015. Although we are less than a year old, we will strive to get a majority of our members at least into the interview stage for internships or summer leadership programs that they desire.
---
Our 2016-2017 Board
---
Nick Blaney
President
Kayley Vu
Vice President of Correspondence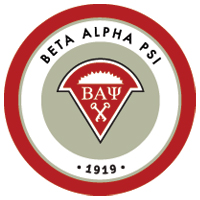 David Perez
Vice President of Finance
Lauren Tom
Vice President of External Relations
Madeline Barayang
Special Events Coordinator
Brandi Hyunh
Engagement Director
2015-2016 Board
---
Contact Beta Alpha Psi
---
Email: ucrbap54@gmail.com
Address: 900 University Ave
Riverside, CA 92521
Meetings: Mondays at 7PM
AGSM 021